About: Giovannalberto Pini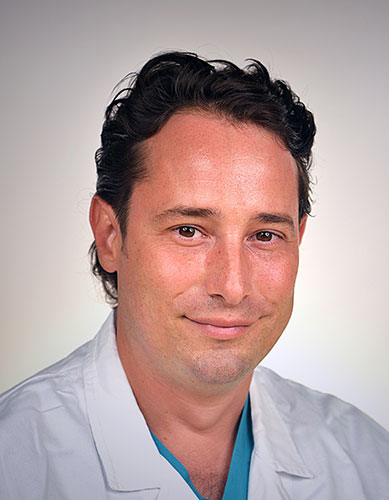 Medico Chirurgo, Specialista Urologo
Robotica e Laparoscopia
Unità operativa di Urologia IRCSS Ospedale San Raffaele Turro, Milano (Italia)
Produzione scientifica
Pubblicazioni su riviste indicizzate: 44
H index / Impact Factor /citatazioni: 12 / 144 / 494
Video prodotti: 30
Presentazioni a conferenze: 125
Qualifiche personali
Sono Gio Pini, urologo presso Ospedale San Raffaele Turro (Milan, ITALY), una delle cliniche urologiche con più alto sviluppo tecnologico in europa. Il San Raffaele Turro una clinica privata di 3° livello diretta dal Prof. Gaboardi con speciale indirizzo verso il trattamento di tumori e calcolosi urinaria. Offriamo chirurgia laparoscopica e robotica inclusa cistectomia robotica con neovescica intracorporea, chirurgia "single site", terapia focale ablativa (crioterapia & brachiterpia), chirurgia laser ad holmium, biopsie di fusione MRI-US per la prostata ed è sede dell'European Training Center in Endourology (ETCE). Miei speciali interessi sono la chirurgia mini-invasiva ed ho avuto la possibilità di lavorare anni in Germania con Prof. Rassweiler and Prof. Fornara e quindi in Svezia con Prof. Wiklund. Sono board member della Young Academic Urologist (YAU) EAU Robotic Group, Junior EAU Robotic Urology Section (J-ERUS), EAU Section of Uro-Technology (ESUT) research group e Hands-on laparoscopy trainer all'EUREP (congresso mondiale più grande per gli specializzandi.
FORMAZIONE E LAVORO
Medicina e Chirurgia: Università di Parma (ITA) (1998-2005)
Spcializzazione: Università di Modena & Reggio E. (ITA) (2005-2010)
Fellowship in chirurgia NOTES: Università del Minho, (POR) Prof. E. Lima (01/2010)
EUSP/ESUT Fellowship lap/robotics: SLK Kliniken Heilbronn (GER) Prof. Rassweiler (2010)
ERUS Fellowship in robotics: Karolinska University, Stockholm (SWE) (10-11/2011)
Lincenza di pratica in: Italia, Germania & Svezia
Lavoro (2011-2012) SLK Kliniken, Heilbronn (GER) Prof. Rassweiler
Lavoro (2012-2013) Università "Martin Luther" Halle, (GER) Prof. Fornara
Lavoro (2014-2015) Uroclinic AB, Stockholm, (SWE) Prof. Wiklund
Lavoro (04.2015 to date) Ospedale San Raffaele Turro, Milano (ITA) Prof. Gaboardi
AFFILIAZIONI
Board Member: Young Academic Urologist (YAU) working party of EAU, Board of Robotics dal 2011
Board Member: Junior EAU Robotic Urology Section (J-ERUS) dal 2014
Board Member: ESU Hands-on laparoscopy trainer at EUREP dal 2014
Board Member: AGILE Group: Italian group od advanced urologic surgery (Lap, Endo and Robot)
Membro: LAPPRO committee: LAParoscopic Prostatectomy Robot Open (SWE); Endourological Society, EAU.
Tutor di laparoscopia e robotica in 18 meeting internazionali (EAU, DGU, SIU, EUREP) from 2011
Reviewer: World Journal of Urology (WJU), British Journal of Urology International (BJUI), Journal of Computer Assisted Radiology and Surgery, Diagnostic and Therapeutic Endoscopy, SpringerPlus, Central European Journal of Urology
PREMI E RICONOSCIMENTI
Vincitore di 13 premi dal 2009.
EAU Hans Marberger Award 2017 – Coautore in miglior articolo in tecniche mini-invasive (EAU), Londra, UK
1° Premio – Best Poster ERUS 2016 – (EAU Robotic Urology Section), Milano, ITA
3° Premio – Best Video ERUS 2015 – (EAU Robotic Urology Section), Bilbao, SPA
1° Premio – Best Poster SIU 2013 – (Italian Association of Urology), Riccione, ITA
1° Premio – Best Video ERUS 2013 – (EAU Robotic Urology Section), Stockholm, SWE
2° Premio – Best Video DGU 2013- (German Association of Urology), Dresden, GER
1° Premio – Best Poster ERUS 2012– (EAU Robotic Urology Section), London, UK
European Section of Urotechnology (ESUT) award 2011- (EAU Annual Meeting), Paris, FRA
Miglior articolo da un giovane urologo (<35aa) nel 2010 Coautore (EAU Annual Meeting), Vienna, AUT
1° Premio – Best Video ERUS 2010 – (EAU Robotic Urology Section), Bordeaux, FRA
1° Premio – Best Video – (2nd Instanbul robotic Urology Symposium) Istanbul, TUR
1° Premio – Best Video IEA 2010 (Italian Endourologic Society), Milan, ITA
1° Premio – Best Video Club Litiasi Urinaria (CLU) 2009, Napoli, ITA